About our designer: Katie Leclerc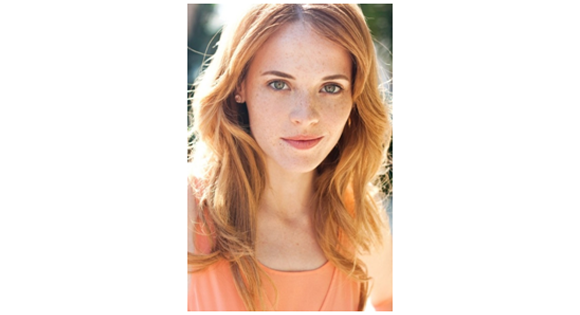 Katie Leclerc grew up in Lakewood, Colorado, the youngest of three siblings in a close-knit family. In grade school, her spunky personality and megawatt smile won her the lead role in a production of "Annie." It was in this play that she discovered her passion for acting, while juggling other after-school activities such as basketball, choir and dance. When her family moved to San Diego, Leclerc continued to pursue theatre at Valley Center High. She started booking commercials – Pepsi, Cingular, Comcast, GE. Then she got her first big break, a role on the cult favorite TV show, "Veronica Mars," starring Kristen Bell.

Leclerc has continued to work in television. Katie stars in the hit ABC Family show "Switched at Birth."  Her other TV credits include  the Hallmark channel mow "The Confession," "CSI," "The Riches," "The Ex-List" and "The Hard Times of RJ Berger." Her feature credits include the independent "Mesmerized," "The Inner Circle" and "Flying By," with Billy Ray Cyrus. At home she loves to cook, and is excellent at it. You can often find her hiking away the calories from her sinfully delicious concoctions on one of L.A.'s hidden trails.

Katie Leclerc:  "My shirt is a map for SELF. When you want change, the power to make that change happen lies within you. Stand up for what is right and don't be afraid of what anyone else is thinking. Enjoy the journey and trust that everything will be ok in the end."


About the Be Good to Each Other campaign

At CustomInk, we believe in the Golden Rule and treating others with kindness and respect.  Statistics show that between 20-30% of school-aged kids in the United States have been bullied.  That is why we've created the Be Good To Each Other campaign to help increase awareness and ultimately prevent bullying by uniting groups with custom t-shirts.

This is the third year of the CustomInk Be Good To Each Other campaign.  With the help of our celebrity partners, the media and you, CustomInk has raised more than $20,000 for bullying prevention efforts.  And the power of t-shirts goes beyond just the funds raised - thousands of people continue to wear the shirts they've purchased and spread the word that bullying is not okay!

 
About our partner: PACER's National Bullying Prevention Center


Founded in 2006, PACER's National Bullying Prevention Center unites, engages and educates communities nationwide to address bullying through creative, relevant and interactive resources. PACER's bullying prevention resources are designed to benefit all students, including students with disabilities. PACER offers digital-based resources for parents, schools, teens and youth, including:

•        PACER.org/Bullying: This is the portal page for parents and educators to access bullying resources, which include educational toolkits, awareness toolkits, contest ideas, promotional products and more.

•        PACERTeensAgainstBullying: Created by and for teens, this website is a place for middle and high school students to find ways to address bullying, to take action, to be heard, and to own an important social cause. 

•        PACERKidsAgainstBullying: A creative, innovative and educational website designed for elementary school students to learn about bullying prevention, engage in activities and be inspired to take action.