More about this campaign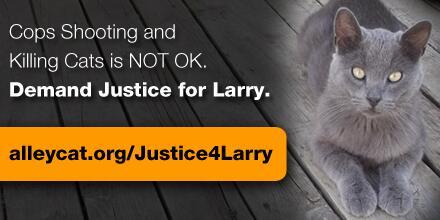 In January, a police officer in Bloomfield, Nebraska, trapped and fatally shot a beloved two-year-old pet cat named Larry. He then dumped Larry's body behind a shed. This devastating act of cruelty violates the state animal cruelty law and city ordinances, yet the officer was only given a written reprimand.
Alley Cat Allies is demanding justice for Larry and his owners. Officers should be educating residents about how to treat animals humanely and coexist peacefully—NOT shooting and killing cats and violating the laws they're supposed to enforce.
When Larry went missing on January 13, his owners took immediate action to find him—knocked on doors, posted on Facebook—but after two days, they called the chief of police who confirmed Larry had been trapped and killed. They were devastated to learn that their beloved Larry was a victim of Bloomfield Police Department's actions. The mayor has even admitted that the officer killed Larry.
Unfortunately, Larry's story is not unique—similar stories are in the news every week—but Alley Cat Allies is working diligently for change and to end this culture of killing.

Please wear this limited edition 'Justice for Larry' t-shirt and use it as an opportunity to tell Larry's story and inform others that all cats—pet, stray or feral—are protected by anti-cruelty laws in all 50 states and the District of Columbia. We must ensure that these laws are enforced and new humane programs are implemented. 
To learn more about Larry and how you can get involved, please visit www.alleycat.org/Justice4Larry